You think "working from the beach" is just a phrase? Traveling the world while working - being independent of time and location and still getting your salary on time - for many this is the dream of a lifetime. At seventhings it's reality.
Work 4.0 and with that digitizing processes, working methods, things, and just working in a digital environment has become normal. As a result, we see diverse and completely new ways of working. Now we know that remote work, can have a positive influence on productivity, people can flexibly manage their own time, and even collaboration can be more efficient than ever before.
How and why we at seventhings believe in the "New Work" concept ...
… What do phrases like "New Work", "Homeoffice" and "Remote Work" mean & where is the difference in between
… All the reasons, why "New Work" rocks
… Why seventhings already loves and uses the "New Work" principles
Good morning from Fuerteventura - Canary Isles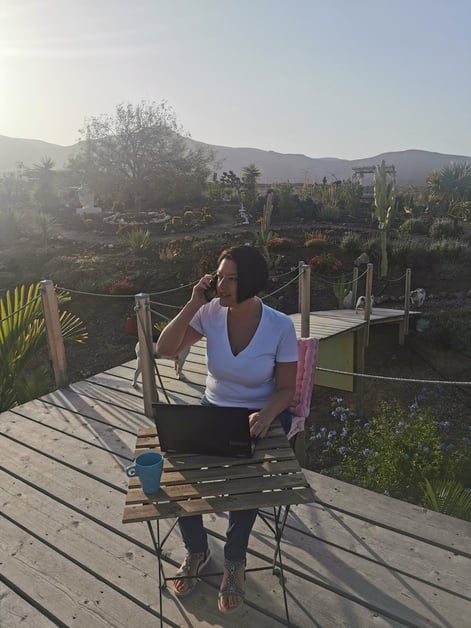 Nathalie is an Account Executive at seventhings and enjoys the light breeze of the ocean every day. Living on Fuerteventura was always her dream and know working from there is even better. She is working remotely and presenting our solution to customers all around the world.
Within the next couple of days Kristin one of our Customer Success Managers will stop by. Kristin frequently visits the island of Teneriffa and this time uses this opportunity to meet up with Nathalie. Just to be somewhere on an island in the atlantic ocean while still being able to work seems pretty cool to me. Working from 6 am to 2 pm and after that going to the beach or hiking a mountain embodies work-life-balance. Traveling around the world for 4 weeks while working 2 of those weeks - thats New Work -and seventhings makes that possible for every employee.
You love to travel and go places but still being able to work? Maybe we have an open spot that fits just you! careers at seventhings
We all use those phrases but what do they mean?
"Homeoffice", "Remote Work" and "New Work" have some things in common, but do not think they are the same. Little things make those principles different. Lets have a look into those little differences:
What is a Homeoffice?
We all know the homeoffice just to well from this past 2 years. Because of that its likely the most known way of working for a large group of people. It simply means that you work from home. Most people have liturally set up a home office as a separate room with additional monitors height adjustable desk and a comfa chair or if you are that kind of person one of those healthy ergonomic stools.
What is Remote Work?
Its basically an addition to the Homeoffice and most likely people have mixed up those phrases. But let me tell you Remote Work is even cooler than the Homeoffice. You can work from home and additionally you can also work from wherever else you want. Working from the beach, working while being on a roadtrip through the USA, and even if you are hiking the Alps. The only thing needed is a laptop and a secure internet connection.
What is New Work?
This is something entirely new to most of us. It's a new and modern working environment. Reason was the fast pace of digitization as well as the flexible and agile work we all do. Things like AI and AR bring new opportunities to the table and give everyone a new opportunity to work in a different way. How companies structure their New Work system is completely up to themselves. How exciting to be a part of that, dont you think?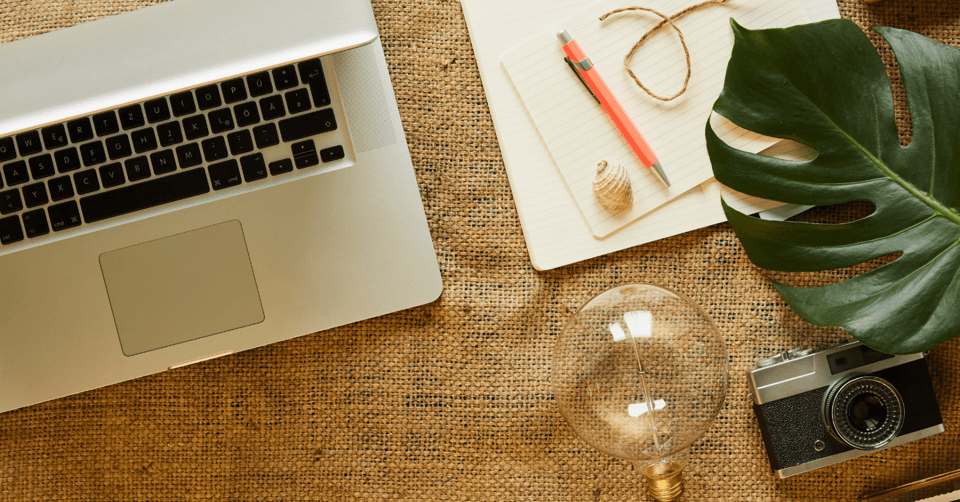 Agile work at seventhings - work however it suits your lifestyle!
By moving out office to a new building in the middle of Dresdens most hippest neighbourhood we set a new standard. The interior design of all rooms is not set to just represent an office but a home for all employees. We introduced our own New Work concept and all employees are a part of that concept and can share isnpiration and wishes.
While we try to get all the input from everyone, we also encourage to work from home, from the beach, or from wherever else. Especially to choose an own working schedule where you can set your own times. You have a personal occasion to attend, you are welcome to leave early or just take a 5 hour break within the middle of the day. You are the early bird that starts at 5 am, fine with us. You need your mornings to sleep because you where out late yesterday, start at noon the next day.
Coming back to how the office is designed, we use flex-desks that means they are all equiped and ready. If you have a long meeting everyone just meets in the same room and by that we mean any room. Open workspace with chairs and a couch are meant to get comfy and enjoy a coffee while working. There is so much more and we will keep you posted. Follow our Instagram to be always up to date.
We have a Plug-and-Go System: --> get in --> plug in your laptop --> choose your desk height --> get cracking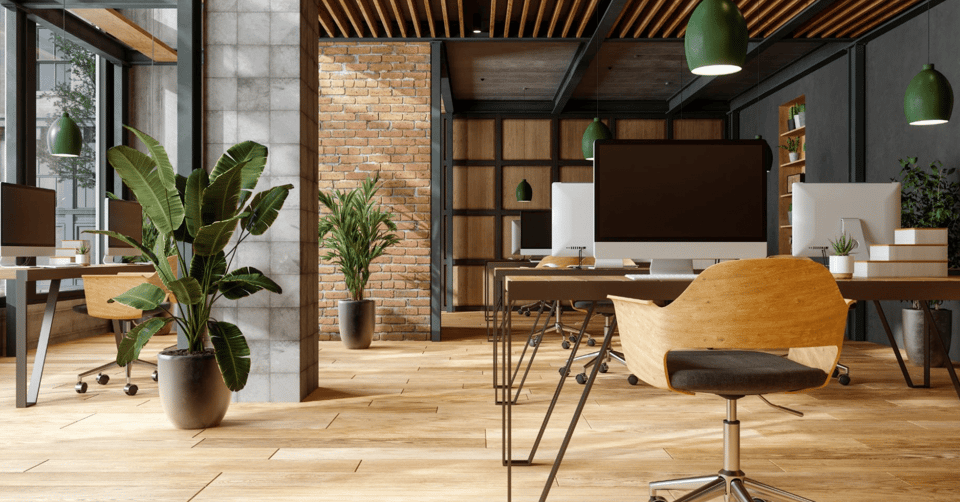 5 reasons, why New Work is just awesome
In addition to being able to work anywhere you want there are more cool things about this New Work thing:
more flexibility
being more flexible with how you spend your time and being able to schedule after your personal needs provides a maximum of flexibility. Also working across multiple location with time differences become easier than ever before.
higher productivity
Because you can choose your workplace you can choose quiet places for deep work and if collaboration is needed you meet in any room that is free. This enables you to get focused when needed but also to be social if you just need to talk to a colleague and this even works from home.
lower cost
It is a win win between employee and employer. You dont have to take your car to work every day and with that even be more ecological. Youre employer saves water, energy cost and space.
>>> Did you know that the average way to work produces 5 Kilogramm CO2 per person to just go to work?
time saving
Not traveling to work saves time. Valuable time that can be spent with youre family and friends. On the other hand you can also work while traveling on a train, that way you dont need to take vacation for that day. ;)
less stressful
How do you like being stuck in traffic? Don not tell me you enjoy waiting for your train to come. My tire is flat and i can't go to work today. All of this happened to all of us at some point so why go through that stress if you can just work from anywhere. A LOT LESS STRESSFUL!
Many advantages
You see that this New Work thing can make your life a lot easier and you can spent more time doing fun things that are not work. In the end that makes work even better and also the environment likes it if you dont have to take your car every day.
You think it is as cool as we do? Have a look at open spots on our career page. We are sure you will find what you have searched for.